A heart-pounding, faith-filled survival adventure set in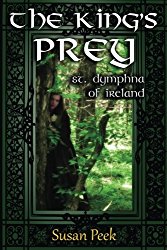 long-ago Ireland, The King's Prey is another winner by popular Catholic author Susan Peek! It's always a delight to read her books, and Saint Dymphna is no exception. I was completely engrossed in this powerful story based on a fiercely terrifying—yet gripping—scenario from reality: a king so mentally destroyed by the loss of his queen that he desires to marry her lookalike—who is none other than his own daughter! Rightfully horrified, his daughter Dymphna flees with the help of a friend, his wife, their feisty dog, and a priest. Suspense escalates when Dymphna's enraged father and his soldiers pursue them across Ireland.
Vibrant writing captures the spirits of the characters and time period perfectly. The plot is intricate and well-crafted, and the pages are bursting with action and excitement. There's insanity, jealousy, misunderstanding, and heartache mingled with uplifting themes of brotherly love, courage, sacrifice, hope, and healing.
Of course, considering the reality this story is based on, The King's Prey is understandably recommended for older teens and adults. The story includes bloodshed, sword fights, and intense life-or-death moments, but all are handled with skill and tact. Peek never takes things too far.
Along with the physical action, we see spiritual action: the real power of prayer and intercession, trusting God, and offering things up for the sake of others. And in the end . . . the ending is perfect.
Susan Peek writes top-notch genuine Catholic fiction that deserves high praise and wide readership. I'm looking forward to sharing her novels with my own kids when they're teenagers, not only because Peek's stories are purely Catholic and enriched with faith and invaluable life lessons—but also because they're so exciting that I won't have to try to make my kids read, they'll want to read!
The King's Prey is available in paperback.