Today I'm honored to be participating in a virtual book tour for the new religious historical romance Julia's Gifts (Great War Great Love #1) by Catholic author Ellen Gable.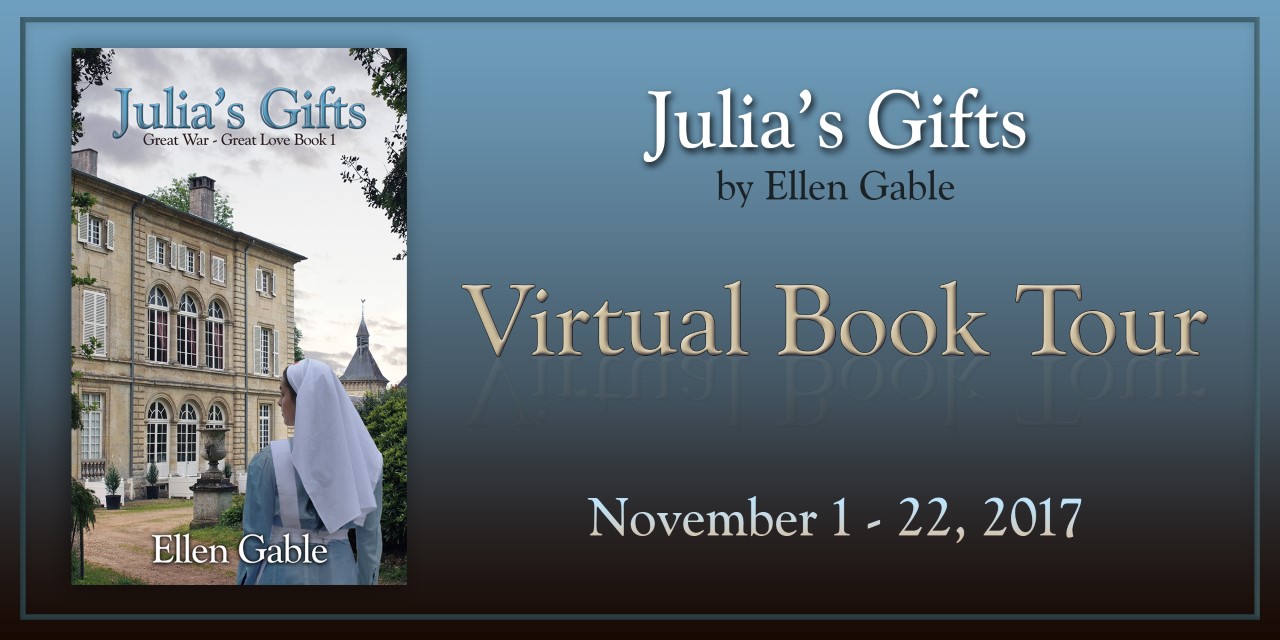 My Review:
Can beauty and life survive destruction and death? Vivid writing transports readers to the past, where young love is forged and tested amidst the devastation of war-torn France. Graced with soulful sonnets and life-and-death situations, this is no simple romance. It's a strong and tender Catholic historical novel about growing in maturity and fortitude while discovering the power of hope, self-sacrifice, and prayer. I read Julia's Gifts within two days, but this touching story of faith and devotion is sure to leave a lasting impression!
Synopsis: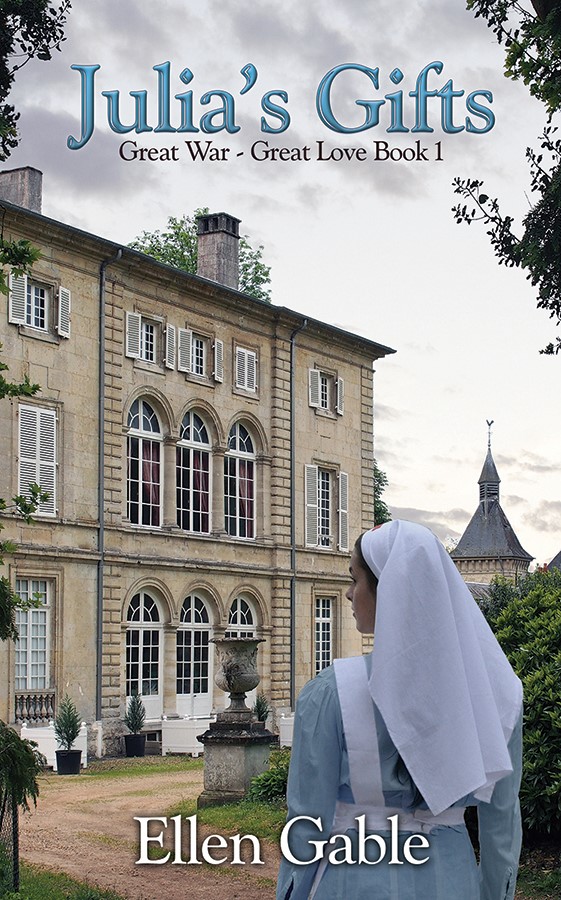 As a young girl, Julia began buying gifts for her future spouse, a man whose likeness and personality she has conjured up in her mind, a man she calls her "beloved." Soon after the United States enters the Great War, Julia impulsively volunteers as a medical aid worker, with no experience or training. Disheartened by the realities of war, will Julia abandon the pursuit of her beloved? Will her naïve "gift scheme" distract her from recognizing her true "Great Love"? From Philadelphia to war-torn France, follow Julia as she transitions from unworldly young woman to compassionate volunteer.
Well in time for the Christmas season, Julia's Gifts is available in paperback and as a Kindle ebook.
Can't wait to dive in? Enjoy reading a free excerpt here!
---
Ellen, what was the inspiration for Julia's Gifts?
When I was a teenager, I yearned to meet my future spouse. It was difficult because most of my friends (and all of my siblings) had boyfriends. Since I looked very young, boys weren't interested in me. I felt lonely, especially on Friday nights when all my siblings and friends were on dates, and I was home watching the Donny and Marie Show.
I began praying that God would "send me a man." Until then, I prayed for my future husband. While I never actually bought a gift for him, I did write letters to him.
A few years ago, it occurred to me that it would be a beautiful gesture for a young woman to buy Christmas gifts for her future spouse. From that small seed, Julia's Gifts was born.
This is very different from your other books in that it is a very clean romance and can be read by young teens to elderly women to middle-aged men. Was that a conscious choice?
Yes, it is very different and no, it wasn't a conscious choice, at first. When I came up with the story and as I was gradually developing the characters and plotlines, it made the most sense to keep this a "sweet" and "clean" love story that anyone can enjoy. It is, however, a war novel, so there are descriptions of war injuries.
One of my biggest struggles as a writer is finding time to write, so I love hearing how other authors handle this challenge. Ellen, how do you find time to write?
The question really is: when do I feel inspired to write? I work for a non-profit organization, and I run a micro-press publishing company. I also write articles for various websites. Some authors can force themselves to write a short novel (say, during November, national novel writing month). However, for me, I need to be inspired. For some strange reason, January is always a rich writing month for me. When I'm inspired, writing comes easily.
---
Ellen Gable is an award-winning author, Marketing Director for Live the Fast, self-publishing book coach, speaker, publisher, NFP teacher, book reviewer and instructor in the Theology of the Body for Teens. However, the roles she loves the most are being wife to her husband and mother to their five sons, ages 18-30. Originally from New Jersey, Ellen lives with her husband of 35 years, James Hrkach, in Pakenham, Ontario Canada. Visit Ellen at her Blog: Plot Line and Sinker. Connect with her on her Amazon Author Page, Facebook, Twitter, Instagram, and Goodreads.
Read more about Julia's Gifts at Full Quiver Publishing and find the novel on Goodreads.
Also be sure to check out all the other stops on the Julia's Gifts Virtual Book Tour!