As a writer and a reader, Christian romantic suspense is my favorite genre, so I'm dedicating this page to feature clean and inspirational romantic suspense novels (other than my own 😉 ) that I have read (or would like to read). Simply click on the books below for pricing and Kindle availability:

A Rush of Wings (A Rush of Wings, Book #1) by Kristen Heitzmann
When fragmented images and unfocused panic force Noelle St. Claire to flee her wealthy, sheltered life in New York, she gains sanctuary on a ranch in the Rocky Mountains.

The Edge of Recall by Kristen Heitzmann
Tessa Young is a landscape architect who specializes in the design and creation of labyrinths. For years she has immersed herself in the healing aspects of these elaborate structures, searching for God and hoping to make sense of the nightmares that have plagued her since childhood.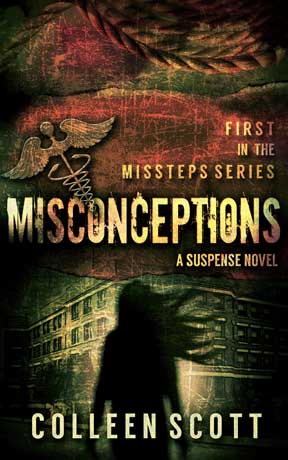 Misconceptions (Missteps Book 1) by Colleen Scott
It's mysterious. And she's too curious.
Dominique, an investigative TV news reporter, is sent to solve the mystery of why the birthrate in the United States has dropped precipitously … everywhere except a few small pockets. Her investigation takes a radical turn when she meets Dr. Joseph Armstrong. His attention makes her heart flutter, but his theory about the birthrate decline makes her heart stutter. It's too strange to even consider, but it's her only lead. Is it romance, or a mismatch?

Weep In The Night by Valerie Massey Goree
After three years in the witness protection program, Sadie Malone's life in Texas is bland and humdrum—until she meets a new co-worker. Bowen Boudine ignites a flame in Sadie's long-dormant heart, but when she discovers he knows her true identity, she attempts to flee. He thwarts her escape and reveals the reason he's been sent to locate her.

Waking Rose: A Fairy Tale Retold by Regina Doman
Ever since he rescued her from Certain Death, nineteen-year-old Rose Brier has been in love with Ben Denniston, otherwise known as Fish. But Fish, struggling with abuse issues in his past, holds her at arms' length until an old danger and a tragic accident threatens Rose's life.

Fugitive (Heroes for Hire, Book 8) by Shirlee McCoy
When she opens her door to a wounded, handcuffed stranger, Laney Jefferson is terrified . . . until she recognizes her unexpected visitor. Thirteen years ago, Logan Randal was there for her when she desperately needed a friend. Now the wrongfully convicted lawman needs the widow's help. On the run from the law and guided only by Laney's unswerving faith in Logan's innocence, their mutual attraction begins to break down the barriers around Laney's heart.

The Unrelenting Tide (Islands of Intrigue: San Juans, Book 1) by Lynnette Bonner
She's been living a lie that could just get her killed…
Widowed former Hollywood actress Devynne Lang has been living a quiet life. For years, she's hoped her fabricated death would keep her identity safe from the public, and more to the point, from the stalker who forced her into hiding.

Deadly Devotion (Port Aster Secrets, Book #1) by Sandra Orchard
Kate knows the truth is out there–but if she's right, that means a killer is out there too. Kate knows that her mentor's death wasn't suicide or a careless accident–and she's determined to do whatever it takes to unearth the truth about what happened to the woman who changed her life.

The Trouble with Perfect by Christy Barritt
On her way to a book signing, novelist Morgan Blake is involved in a hit and run–she's hit a man, and he's run from the scene. Before fleeing, he mouthed the word "help." She plans to give him that help, but first she must find him.

Taken by Dee Henderson
An investigator who knows tragic loss firsthand, and his new client, missing far too long…
Abducted at the age of 16 and coerced into assisting the Jacoby crime family, Shannon Bliss has finally found a way out.

Gathering Shadows (Finding Sanctuary) by Nancy Mehl
Wynter Evans is a promising young reporter for a television station in St. Louis, but even a bright future doesn't take away her pain over the disappearance of her brother nine years ago. So when she stumbles across a photograph of a boy with an eerie resemblance to him, she can't pass up the chance to track him down.

Targeted (Love Inspired Suspense) by Becky Avella
When photos of Stephanie O'Brien are found in a serial killer's home, she must face the horrible truth that she's the next intended victim. She has nowhere to hide, nowhere to run—except to K-9 cop Rick Powell.

Broken Trust by Leigh Bale
Toni Hamilton is torn by grief after a special ops mission in Afghanistan claims the life of her older brother. When a cryptic letter arrives from him one month later, Toni finds her own life threatened and the only person she can turn to for help is the man who may be responsible for his death.

False Identity by Jennifer Youngblood and Sandra Poole
When Chancy crosses paths with a strange handsome homeless man, she is soon thrown into nightmarish events caused by a chilling deception where nothing is as it seems, bringing a terrifying aftermath that threatens not only her but the lives of her children.

Mistaken Assassin (Overcoming Evil, Book 1) by Cynthia Hickey
Marilu Hutchins wakes up one morning realizing the man next to her is not her husband. That awareness is the beginning to ten year's of memories returning. One of which leads her to believe she is a paid assassin.

Baggage Claim (Tru Exceptions, Book 1) by Amanda Tru
A lost suitcase leads to a heated kiss and a dangerous mission from which Rachel may not escape.
Check back soon for more awesome Christian romantic suspense fiction!
Also, please do suggest your own favorite Christian romantic suspense novels in the comment box below so I can list those books here as well!
Lastly, would you please take a moment to sign up here to be notified when my new upcoming romantic suspense novel is released? I want you to be the first to know!