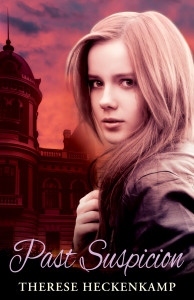 Amazon Kindle #1 Bestseller in:
Inspirational Religious Fiction
Religious Romance
Religious Mystery
Religious Drama
$12.95 Paperback
$2.99 Kindle Ebook 
Read the first few chapters now!
Watch the official Past Suspicion Book Trailer:

Synopsis:
"Don't trust anyone…" So whispers Robin's mother just moments before she dies.
Uprooted from all she's ever known, Robin Finley is on the verge of turning 18 when she is forced to her mother's old hometown to live with an uncle she's never met. The town is small, but it shelters big secrets. Robin encounters two mysterious young men, a tragic mansion, and disturbing questions about the past. Her determination to discover the truth ensnares her in a tangled web that spans the years and threatens to destroy her future.
A Christian romantic suspense novel for readers 13 and up, Past Suspicion is an artful interweaving of the past and the present, of Robin's story as well as her mother's. It glows with hope yet burns with caution: Beware how you live life, or the past may return to haunt you . . . and those you love.
Awards:
Catholic Writers Guild Seal of Approval
Visit Past Suspicion on Facebook!
Visit PastSuspicion.com

Note: your email address will not be bought or sold!
Past Suspicion was first published in 2003
Republished in 2012 by Ivory Tower Press
324 pages