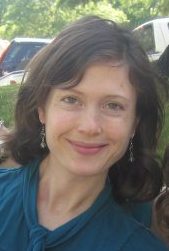 Therese Heckenkamp, Christian fiction author of Frozen Footprints, After the Thaw, and Past Suspicion, has been writing stories since before she could spell. Born in 1981 in Taree, New South Wales, Australia, Therese arrived in the U.S. on her second birthday. Her mother is from Australia and her father, an American, served as a Ranger in Vietnam from 1968-69. Therese has one older brother, Jerome, and two younger sisters, Monica and Cassandra.
Growing up homeschooled, Therese enjoyed plenty of opportunities to read piles of books and pursue her writing dreams. She completed the first draft of her first published novel (Past Suspicion) the summer before she attended college. After graduating from UW Waukesha with an Associate of Arts and Science degree, she continued working as a baker and cake decorator before marrying in 2007 and becoming a stay-at-home mom in 2008. Therese lives in Wisconsin and is now the mother of six (four on earth, and two tiny babies cradled in God's loving care).
Past Suspicion and Frozen Footprints have both reached #1 Bestseller in various Amazon Kindle categories, including Religious Drama, Religious Mystery, and Inspirational Religious Fiction. Despite the challenges of finding time to write, Therese is a member of the Catholic Writers Guild and squeezes in writing whenever she can manage (and sometimes when she can't). She dreams up new story ideas at night and plans to write many more novels in the future.
Therese always enjoys reader feedback and comments. Contact her at tessheckenkamp@hotmail.com and follow her on Facebook, Amazon, Goodreads, and Twitter.